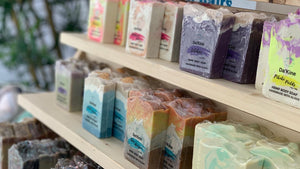 Shop all Vegan & Hemp Self Care Products
Handmade With Aloha
Shop all Vegan & Hemp Self Care Products
Handmade With Aloha
How Our Business Started
🌺 Aloha, Hawaii! Discover the Magic of Our Hawaiian-Style Bug Repellent and Sunscreen 🌊
🏝️ Embrace the Spirit of Aloha: Our journey began in the pristine Hawaiian Islands back in 2015. Witnessing the struggle of our local communities against Dengue Fever, we knew we had to take action to protect our beloved kupuna, keiki, and expecting mothers.
🍃 From Nature with Love: Our all-natural bug repellent was born from the heart of Hawaii's lush landscapes. Crafted with care, it harnesses the power of natural ingredients to keep pesky bugs at bay, without harmful chemicals that can harm our precious environment.
🐠 Preserving Our Paradise: We didn't stop there. We embraced the responsibility to protect our vibrant coral reefs and ocean life. Our passion for the islands led us to create reef-safe sunscreen, ensuring that our tropical wonders thrive for generations to come.
🌿 Nourishment from the Earth: As we evolved, we discovered the beauty of hemp oil, a gift from nature itself. We infused this powerful elixir into all our products, pampering your skin while being kind to our planet.
🌞 Embrace a Chemical-Free Paradise: At our core, we are educators. We strive to inform everyone about the risks posed by chemical-laden products found in stores. Choose a healthier and greener path with our natural alternatives.
🤙 Mahalo for Supporting Local: When you choose our products, you are not just getting the best for your skin, but you are also supporting a small Hawaiian business that cares deeply for its people and its land.
🌺 Unlock the Secrets of Hawaii: Immerse yourself in the Hawaiian way of life and experience the true spirit of these islands. Whether you're hiking through lush forests or swimming in crystal-clear waters, our bug repellent and sunscreen will be your trusted companions.
🌊 Dive into Pure Aloha: Experience the joy of safe, natural, and effective protection for your skin and the environment. Choose the spirit of aloha with every purchase.
🏄‍♂️ Catch the Wave Now: Don't miss the chance to safeguard your family and Hawaii's precious nature with our all-natural products. Dive into the magic of our Hawaiian-style bug repellent and sunscreen today!
🛒 Shop Now and Embrace the Aloha Spirit🌴
About Our Bug Repellent
🌴 Aloha from Hawaii! 🌺 Keep Bugs Away with Our Hawaiian Bug Repellent 🦟
Experience the Magic of the Islands with Our Bug Repellent! 🌊🏄‍♀️
Say goodbye to pesky bugs and hello to a bug-free paradise with our specially crafted Hawaiian Bug Repellent! 🌿✨
🏝️ Embrace Nature: Our bug repellant contains five essential oils, sourced from the heart of Hawaii, that will naturally keep those annoying bugs at bay. Enjoy the outdoors without the buzzing interruptions! 🌺🌴
🍃 Itch Relief On-the-Go: Don't let bug bites ruin your day! Our bug repellent includes a soothing itch reliever to provide instant relief, so you can keep enjoying the sunsets and beach strolls. 🌅
💦 Nourish Your Skin: Indulge your skin with the goodness of Hawaii! Our bug repellent not only keeps insects away but also moisturizes your skin, leaving it feeling soft and refreshed. 🏝️🌺
👶 Ohana-Approved: Our formula is gentle and safe for babies, making it perfect for the whole family. Embrace the spirit of Ohana (family) as you explore the island together, protected from annoying bug bites! 👨‍👩‍👦‍👦
🌈 Experience Hawaii Bug-Free: Whether you're hiking through lush rainforests, surfing the crystal-clear waves, or having a backyard BBQ, our Hawaiian Bug Repellent ensures a bug-free and enjoyable experience! 🏄‍♂️🌺
🌺 Unleash the Magic: Discover the secret to bug-free adventures with our Hawaiian Bug Repellent today! 🌿🌺
Don't let bugs ruin your island adventures! Embrace the aloha spirit and stay bug-free with our Hawaiian Bug Repellent. 🌺🐜
🔆 Experience the Enchantment of Hawaii - Order Now! 🔆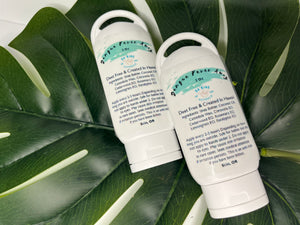 Our Products
🌿 Discover Da'Kine Naturals - Embrace the Essence of Hawaii's Nature 🌺
Experience the Aloha of Pure, Vegan, and Natural Products from Da'Kine Naturals! 🌴🌿
🍃 Skin Love in Every Drop: Our products are carefully crafted with love, using only the finest natural ingredients. Feel the difference as our skin-loving formulas leave your skin moisturized and irresistibly soft to the touch! 🌺💦
🌿 The Power of Hemp: We've harnessed the incredible benefits of hemp oil, rich in antioxidants like vitamin A, C, E, and F, along with essential fatty acids. Nurture your skin's outer layer, preserve hydration, and unveil firmer, youthful-looking skin with reduced fine lines and wrinkles! 🌟✨
🤲 Handmade with Care: Each of our products is crafted by hand in small batches, ensuring the utmost attention to detail and quality. Embrace the purity and authenticity of Hawaii with every bottle of Da'Kine Naturals! 🌊🏄‍♂️
🌺 Vegan, Hemp, and Natural: At Da'Kine Naturals, we cherish the environment and your well-being. Our products are 100% vegan, hemp-infused, and made with natural ingredients, so you can pamper your skin guilt-free! 🌿🌱
🏝️ Embrace the Spirit of Hawaii: Let the essence of Hawaii's pristine nature infuse your skincare routine. Revel in the beauty of the islands, and indulge your skin in the nourishing goodness of Da'Kine Naturals! 🌸🍍
🌟 Experience the Magic: Elevate your skincare routine to a whole new level with Da'Kine Naturals' exceptional products. Unlock the secret to naturally radiant and healthy skin! 🌟🌿
Unleash the power of nature with Da'Kine Naturals - Your path to beautifully hydrated, vibrant, and glowing skin starts here! 🌺💧
🔆 Embrace the Essence of Hawaii - Order Your Handcrafted Products Today! 🔆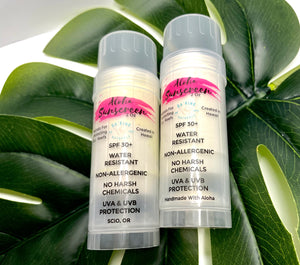 About Our Sunscreen
🏝️🌞🌺 Experience the True Hawaiian Aloha with Our Reef Safe Sunscreen! 🌺🌞🏝️
Protect your skin and the beautiful Hawaiian reefs with our specially crafted Aloha Sunscreen. 🐠🐢 Our sunscreen is not just another product; it's a promise to preserve the natural wonders of Hawaii for generations to come.
🌊 Reef Safe and Water Resistant: Dive into the crystal-clear waters without a worry! Our sunscreen is carefully formulated to be reef safe, so you can enjoy the ocean while knowing you're protecting its delicate ecosystem.
🏄‍♀️ Easy to Use: Our sunscreen goes on sheer, offering you seamless coverage. The solid stick design ensures effortless application, leaving no sticky or greasy residue behind.
☀️ Time to Reapply Indicator: Never guess when it's time to reapply! Our innovative formula creates a gentle bubbling effect when exposed to water. So, when the bubbling stops, it's time to reapply and stay protected all day long.
🍃 Naturally Safe: We understand the importance of using gentle, non-toxic ingredients. Our sunscreen is free from harsh chemicals, making it safe for your skin, Hawaii's marine life, and the environment.
🌺 Go Green with Aloha Sunscreen: Embrace a sunscreen that cares for your skin and the precious Hawaiian reefs. When you choose our sunscreen, you're choosing to be part of the solution in preserving Hawaii's unparalleled beauty.
📦 Fast Shipping: Order now and enjoy fast shipping directly to your doorstep. Say "Aloha" to worry-free days in the sun!
🔆 Embrace the spirit of Hawaii and protect what you love most. Choose Aloha Sunscreen and join us in the quest to keep Hawaii's reefs vibrant and alive. Click now to order your reef-safe sunscreen! 🌴🌊